Small Business SEO Case Study: 212.5% Increase in Traffic in 3 Months
Posted on:
By: 270net Technologies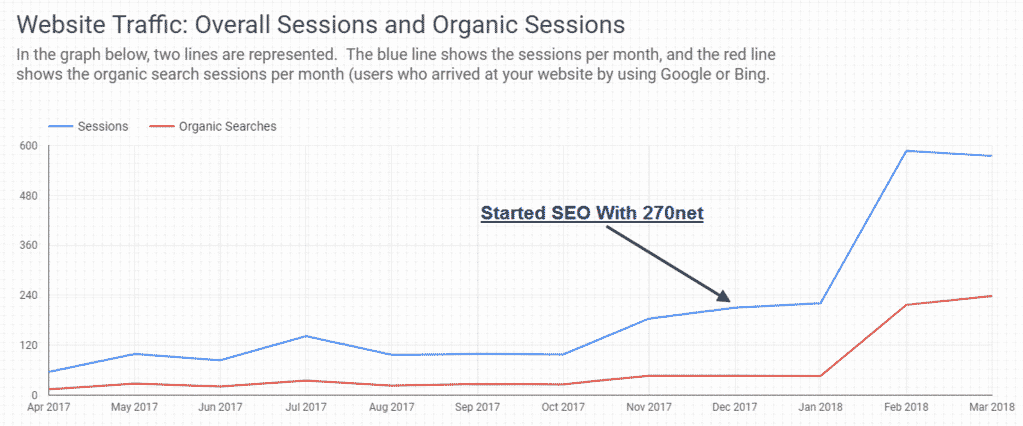 At 270net, we love celebrating wins – big and small – for our clients. This particular win is larger than usual in a short amount of time! We typically tell our clients that it takes around 6 months for their SEO services to "grow legs," however, we always jump right into projects with a goal of surpassing client expectations.
New Client, New Goals
Our new marketing client, a small wiring and security company, came to us in December 2017 looking for help with increasing both website traffic and leads. They had a fairly thin but well-structured website (very important for SEO!) that needed a few technical and usability improvements and we put together a plan that involved content expansion, technical on-site SEO, and website changes to help improve speed.
In our first month of SEO services, the 270net Digital Marketing team put on our detective hats to determine how to get small, immediate wins while we chug away at activities that will bring big wins. Our mentality is to always do the right things at the right time. As part of that, we added SEO-focused content and performed significant on-site SEO optimization. The client contacted us at the end of January, saying he was already seeing some major business improvement – His phones were ringing off the hook!
>>SEO isn't magic – It takes strategic planning and good instincts. See what else SEO is not!>>
Targeted SEO = Big Wins!
We spent the next two months adding more website pages, as well as enlisting the help of our Design Team to help with image size optimization and improve site speed. Here's the results in their traffic: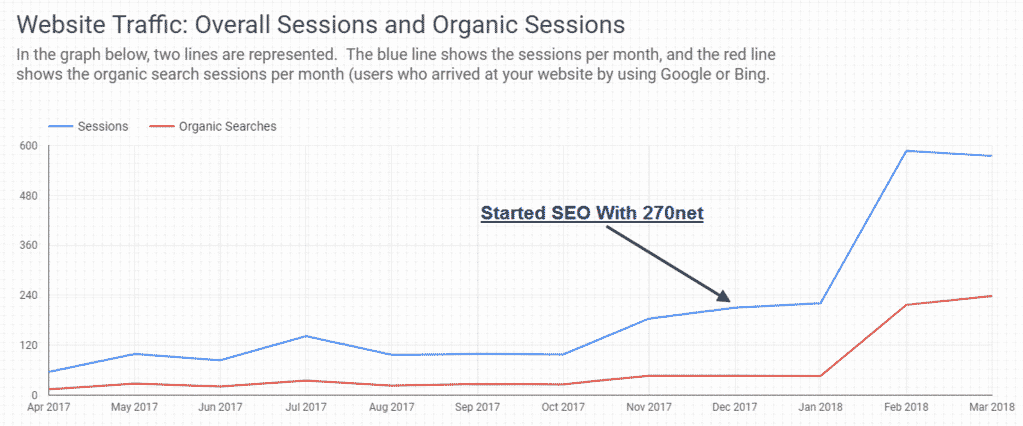 In November 2017, they had 184 visits. Last month, after just four months using 270net's SEO services, they had 575 visits – and organic search tripled. That's an amazing 212.5% increase in overall traffic!
Experienced SEO Services for Small & Medium Businesses
Want results like the ones our client experienced? Our skilled SEO team can help! We offer full-service SEO options, including on-site optimization, off-site optimization, strategic content creation, and blogging. Contact us today to get traffic flowing and converting on your business website!

Tags: case studies, content marketing, SEO