Your competition is smart, and as each year passes, ranking online requires more effort, technical aptitude, & ongoing monitoring. Algorithm updates are constant & endless, and leave you scratching your head and asking many questions. Here's what we DO know: the best way to climb to the top of Google in 2019 is by partnering with hard-working, insightful, strategic team.
The market is full of SEO "experts" that offer nothing more than empty ranking promises in exchange for mysterious "work" and lackluster reporting. You need a reliable and experienced agency that understands the problems facing businesses today. Business owner, meet 270net!
Included in all of 270net's Local SEO Packages:
A strategic plan of local presence expansion
Comprehensive keyword research that includes your competitiors
Technical audit with improvement recommendations
On-site and off-site optimization by our in-house experts
Ongoing site speed monitoring
Local footprint building and guidance
Names/Address/Phone number consistency in the large aggregators and directories.
Local search result monitoring and ongoing optimizations to improve your rankings and traffic.
Included in Some SEO Packages:
Social media management
Blog creation
Content creation
Link building & outreach
Actual results by our in-house team: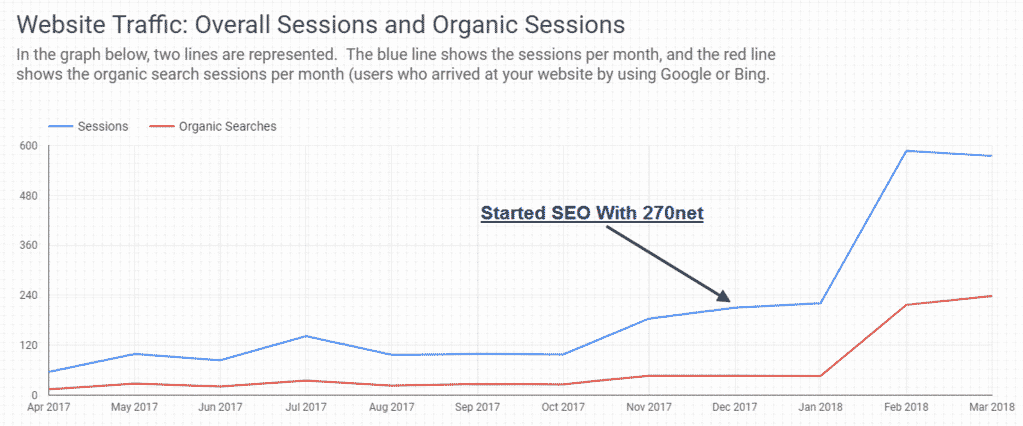 Get Your Local Marketing Report Now!

Enter your information below to get a free report. We won't spam you – we're here to help you learn.
---
Why is 270net's SEO Better?
We're not afraid to say that our SEO services are the cream of the crop. We're an efficient, in-house team with years of experience. But what truly makes our services different?
We're transparent. You'll know what we're doing and why we're doing it – every step of the way
We're affordable. We offer high quality at reasonable prices (from $149/mo – $899/mo depending on needs & business size). We're not the cheapest, but we provide value to you far above what we charge.
We do not outsource. We have a talented staff of designers, content wizards, SEO gurus, and PPC pros. Wherever you are, our hands-on team works with you.
We report to you. You'll receive a monthly report, and it will be easy to understand.
Last, but definitely not least: you own your SEO. Many companies take back the work they've done after you stop working with them. Not us. You paid for it, you keep it.
When comparing SEO companies and packages, be sure you're comparing apples to apples. With our SEO package, you'll find a combination of services that are the most effective tactics for improving rankings and traffic in ways that fit right into your budget. We've helped companies of all sizes find the perfect marketing fit for their needs and goals.