Small Business Content Marketing: What Pages Do I Need on My Website?
Posted on:
By: 270net Technologies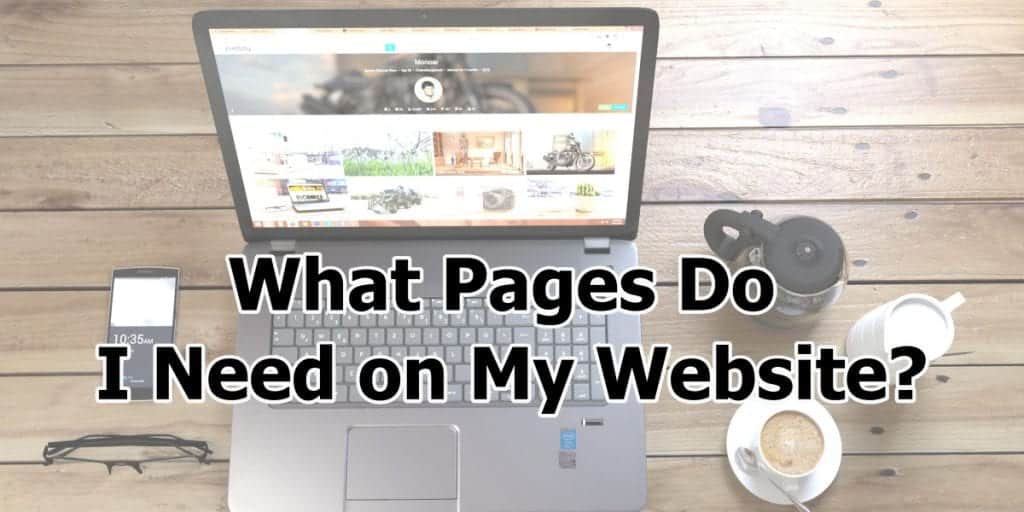 Whether we're helping a client redesign an existing website, or building a new one from the ground up, we get asked this question a lot: What pages do I absolutely NEED to have on my website?
This is a great question. Building a website is a pretty involved process, and can take a lot of time for a business owner. From deciding what you want your website to look like to approving concepts and templates, you can feel it's eating up a lot of your day. So when it comes to the actual content on your website, it can all get lost in the shuffle a little bit.
Generally, you want to have as much quality content that represents your business and the products or services you provide to your customers as possible. We're not saying create a page just for the sake of creating a page. Instead, make sure that every page you create, from the Home page on down to a sub-page of a product or service offering, provides value to your potential customers. Many websites have dozens of pages, as there are so many ways to create relevant content for your keywords in a business with even the smallest number of offerings.
That being said, there are 5 main pages your website needs to get off the ground and gaining traffic:
Homepage
The very bread and butter of a website, you need a Homepage. This is the main page of your website, and should introduce your business to your potential customers. You want to have snappy, well-crafted copy that encourages visitors to dive deeper into your website, as well as images that represent what your business has to offer.
A great Homepage sets the stage for a great website.
About
Customers want to know about the people and faces behind the businesses they're spending money with. Your About page is where you want to tell the story of your company's founding, give people a peek at who works for you, and tell them a little bit about why you're different from other companies in your industry.
Some ideas of ways to craft your About page:
Start with the story of your company's founding. Did your founders do something different then decide to make a career change? Has your company been in one family for generations?
Show people the faces of the employees they'll be interacting with. Don't just give routine biographical details, like education and industry experience (though this is all important information, too). Let your employees show their personalities by showcasing a fun fact, their interests, or something that's relevant to your business.
If you do charity work, bring that front and center on your About page. Philanthropic businesses are big with consumers, and showing off organizations you've benefited or charitable donations you've spearheaded will resonate with a lot of potential customers.
Shoot a quick video talking to your employees and former customers about your business. Ask each of them why they chose your business, either as an employee or as a customer. These testimonials will speak volumes.
Contact Us
This is kind of a no-brainer. You want to make sure your customers can reach you, and have all the information on where to find you. Give them as many options to contact you as you can: Phone, email, physical location, social media profiles, review sites, etc. Providing a fillable Contact form is a great way to capture potential leads and people don't ever have to leave your website to request information.
Products/Services
Along with knowing how to contact you, your potential customers need to know what you have to offer. What products do you sell, or what services do you provide? Create a page that gives your customers an overview of what they can buy from you or pay you to do.
Start by giving them an overview of your company. Are you a home renovation business? Are you an attorney? Do you sell products? Give potential clients an idea of what they can expect working with you, whether that's a free consultation, frequent communication, or exceptional product quality.
Then, list out your main product or service categories. You don't need to go into much detail, just get them all on the page. So, if you work on the exteriors of homes or businesses, you'll want to list things like roofing, siding, windows, and gutters. This list will become important later.
Before you wrap up this page, make sure to include a call to action that links to your Contact Us page. Whether that's "Schedule your free consultation today!" or "Call for more information!" you need to begin building a structure with your pages that allows you to link them to one another.
Main Product/Services Offerings
Once you have all your products or services listed out on a page, sit down and think about what your main offerings are. Even if you only have three services you offer, chances are one of them is your most frequently requested service. Also, if there is a product or service you're looking to gain more business in, make note of that.
Choose the two or three most important products or services – either most requested, most profitable, or ones you're wishing to do more business in – and write separate pages about what you offer and how you offer it. If you repair and replace roofs on houses, write a page about how your team assesses a roof and makes a repair or replacement recommendation, how you use only the best shingles on the market, and how you get your work done quickly to provide as little interruption as possible.
These individual pages are designed to help capture more of those all-important keywords, and bring in searchers looking for your specific service in your specific location. Simply relying on your Homepage and Products/Services page to bring in those searchers isn't enough, because putting too many different keywords on one page dilutes the effectiveness of all of them.
Like your Products/Services page, be sure to wrap up each of these pages with a call to action that links to your Contact Us page.
Also, be sure to go back to your Products/Services page, in the bulleted list you made of all the product categories or services you provide, and link to your new sub-pages for individual services. Doing this helps Google and other search engines understand how the pages on your website relate to one another, creating a structure. This helps improve your rankings and allows your users to more easily navigate your website.
What About All the Products & Services I Didn't Write about?
Your website should always be an ever-evolving thing. Google loves to see frequently updated content, and content that's relevant to your business and your industry. The pages we listed above are our recommendations for absolute, bare-bones minimums to launch a website.
If you didn't write about a few of your product categories or services before your website's initial launch, don't worry! You can always write about them later and add those pages into your website. Just don't forget to link them to other pages to create that structure!
You can even, as time goes on, get more granular about the pages you create for your website. If you're a roofer, as in our example above, you can create one page for storm damage repair, one page for roof replacement, one for roof leak repair, and even individual pages for the different types of shingles you offer! There's almost no limit to the content you can add to your website, as long as it's relevant to your business and could provide some value to your customers.
Content Marketing for Businesses
We understand finding the time to write for your own website is difficult. You've got to develop new products and services, hire new staff, manage all the individual moving parts of your business – And still find time to sleep each day! That's why we have a team of professional SEO content and copywriters, ready to make your website the best it can be to help your ideal customers find you. 270net Technologies offers a variety of content marketing services, including content audits, content strategy, website content refreshes, monthly content creation, and blogging. Call today!

Tags: content marketing, digital marketing, homepage, SEO, web design