Correcting Your Business's Online Listings: Use Yext or Optimize Manually?
Posted on:
By: 270net Technologies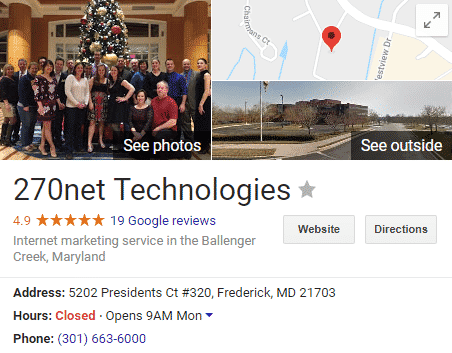 Online listings are a hot button topic, and this has been our most read blog post over the last three years (PS: content marketing works)!  When this blog was first written, local listings were the basis of establishing your digital footprint – and they still are. However, the listing landscape has changed and the big players in the listings world have also changed. So, welcome to 2018!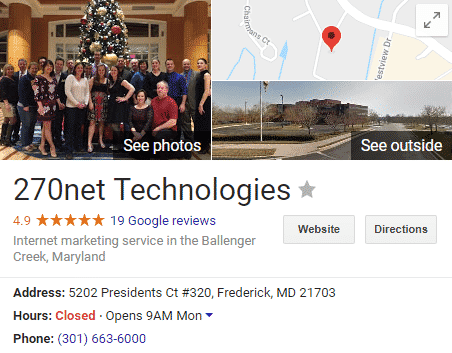 What Matters the Most for Local SEO?
Google My Business, Yelp, Better Business Bureau, Angie's List, Bing Local – the web is full of listing and review sites such as these. Your business may already be included in these directories, and your customers and potential customers are finding you there. The listings contain information about your company including your business name, address, phone number, website, hours, description, logo, reviews, and more.
Your local presence is foundational for your SEO success, and where you'll always want to start. To begin, ask yourself these two questions:
Is the information about my business correct?
Does this information show off my business in the best light?
Oftentimes, we only receive inquiries for help when a customer gets a bad review on Yelp or Google; they want damage control. But your online reputation encompasses much more than just reviews – before you worry about reviews, you should take some time to ensure that your business is listed everywhere it needs to be, and that those listings are correct.
All of the listings across the web should contain accurate, consistent information for two reasons:
1) It's smart. Your potential customers need to find the right information about your business all of the time in order to maximize lead generation.
2) Google cares. A consistent NAP (name, address, place) gives your business authority in Google's eyes. If your NAP is all over the place, you're going to have a difficult time getting to the front page.
There are a few ways you can go about checking, correcting, and optimizing these business listings: automated listing management, manually in-house, or as part of an SEO package.
Automated Listing Management
There are a number of automated systems, and the most popular is Yext.
The pro: It's easy. You sign up with Yext, pay them, and it's done. Claiming, monitoring, and managing your listings is a time consuming task.
The cons: Yext creates listings, corrects listings, and removes duplicates automatically. When we've tested Yext, our clients experienced new duplicate listings and inconsistencies that remained. We assume that's due to the automated nature of the system. Without someone putting eyes on each listing to ensure that it's updated/corrected properly, there will be a potential for errors.
Another downside of Yext is the price. Prepare to pay between $500 – $1000 a year for listing management alone. While we believe that listing management is essential – that's a high price.
The major problem: What many of our clients don't know about Yext is that after you stop paying them, they take back their updates. You read that right. You don't own your listings.
Yext is an ongoing service, and when you stop their service, everything goes back to the way that it was before you started the service. Read: back to square one.
Manually In-House
Do you have a team member that has some spare time? You can manage your listings on your own. Most listings can be claimed relatively easily. We say most because there are a handful of data aggregators that aren't accessible to the public, and a few that aren't free.
The pro: You have 100% control over your listings.
The cons: Time. Lots, and lots of time. Also, it costs more for an individual business to build some of them than it costs Yext or an agency.
For those who are prepared to tackle the task, we've written a blog post that talks about the best citations to build, and you'll find it a great place to start.
>>Top 20 Listings ALL Businesses Should Claim
Here are a few notes about manually claiming listings from the blog post above:
Set aside 1-3 hours to claim each listing
Have tax documents available
Be prepared to be near your business phone – many require phone verification
Some of these listings cost money
There WILL be a hard upsell for many of these. If you manage to avoid the extras, expect to pay around $500/year for your listings. If you take the upsell, it will be significantly more.
As Part of an Ongoing SEO Package
Most agencies offer local listing management standalone or as part of an SEO package. If you do a quick Google search for, "SEO agency (enter your city here)," you'll find a local provider that will help you with your listing management.
The pros: As with Yext, you don't have to worry about it. You've got little free time as it is, and you won't have to find time to get the listings added manually. Also, if you choose a good agency, you're dealing with experts who've been handling this type of thing for years. It will be done right, and if there are any issues – they'll take care of it.
The cons: It will cost more – but probably less than you think.
We're a big fan of bundling listing management with on-site search engine optimization (it's the only way we offer it). One without the other is like a s'mores without the marshmallow or tree without leaves – the end result is less to be desired. So keep that in mind when you choose a provider.
Shameless Plug: The Best Deal Around!
Engage Local is 270net's Local Listings/SEO/Custom Website package. You'll want to jump on this bargain: for $399/month, we'll build listings, handle your on-site optimization, and BUILD YOU A NEW, SEO-FRIENDLY WEBSITE. We don't use templates, and we've got a world-class website design process. Shop around – you won't find a better price anywhere else.
Fill out the quick form at the bottom of this post or click on the chat bubble to the right to ask us any questions (we promise, we're a no-pressure, friendly bunch!) or to get your project on the web design calendar for next month (we have limited space for new projects each month). You can call us, too, at 301-663-6000.
What You Should Know about 270net:
Our team is in-house: ALL of our SEO practitioners are our employees. It's our promise to you that we'll never outsource your work.
Our team is well-trained: Everyone is Google certified.
We don't buy junky backlinks: If you're promised a bunch of backlinks as part of your SEO package, run away. The company is either not transparent (they often call listings "backlinks") or are buying massive amounts of junk links. You'll see short term gains – until the next Google algorithm update. Backlinks are expensive. We'll build them for you at an additional cost.
We know small businesses. We started out as one ourselves, 17 years ago in the basement of a townhome. We understand the commitment, drive, and struggles that you face.
You own your SEO. This is the most important one on list. Any time you talk to a marketing company, you need to ask the question: "Do I own the content, listings, and optimization that you create for my business each month?"  Many companies out there treat SEO as a rental service – you keep the content/landing pages/optimization

only as long as you continue to work with that company

.  We don't do that. When you pay us to do SEO work, the work that we complete belongs to you.
Some Recently Launched Projects:
[one-half-first]
Erimax, Inc.: WEBSITE
Other Voices Theatre: WEBSITE
[/one-half-first]
[one-half]
EMAT: WEBSITE
Bates Architects: WEBSITE
[/one-half]
Ready to get started? Fill out the form below:
Please select a valid form

Tags: business listings, google maps, google my business, online listings, online reputation, power listings, reputation management, SEO, yellow pages, Yelp, yext, yp.com