Why a GMB Listing Is So Important For Your Business
Posted on:
By: 270net Technologies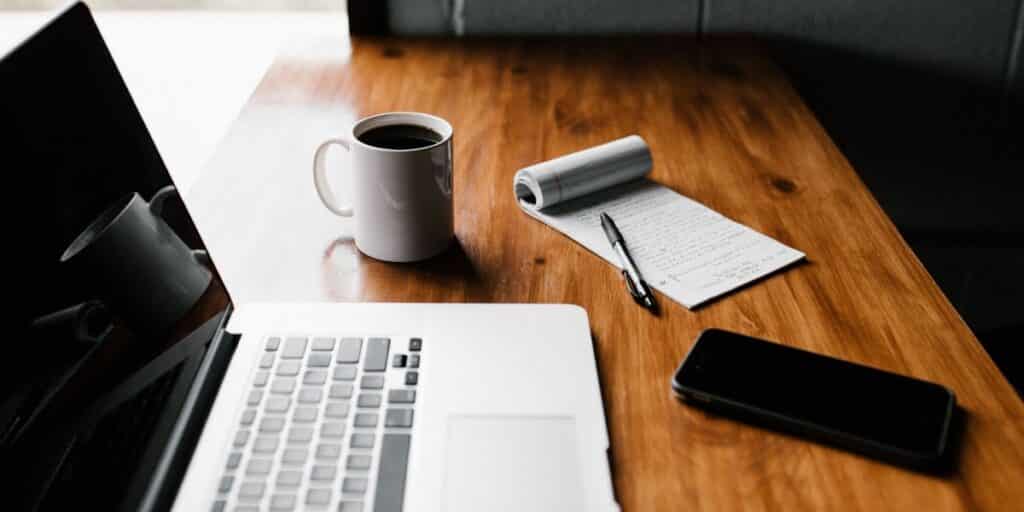 When you search for a business, whether you use the business's specific name or some combination of keywords, chances are you'll see pins on a map, or a panel on the right side of your screen that provides a variety of information on the business.
This information is shown thanks to an optimized Google My Business profile.
If you own a small business, a Google My Business (GMB) listing is an essential tool. Not only does it provide all the information curious customers need to reach you, but it also promotes online traffic to your business.
Read on to discover more about GMB listings, why they are so important, and how to set up your own.
What Is GMB, & How Does It Work?
A GMB listing is a feature offered by Google to give local businesses prime real estate on relevant search results.
On desktop searches, the GMB listing appears to the right of the search results. On mobile, it appears at the very top of the page as the first result.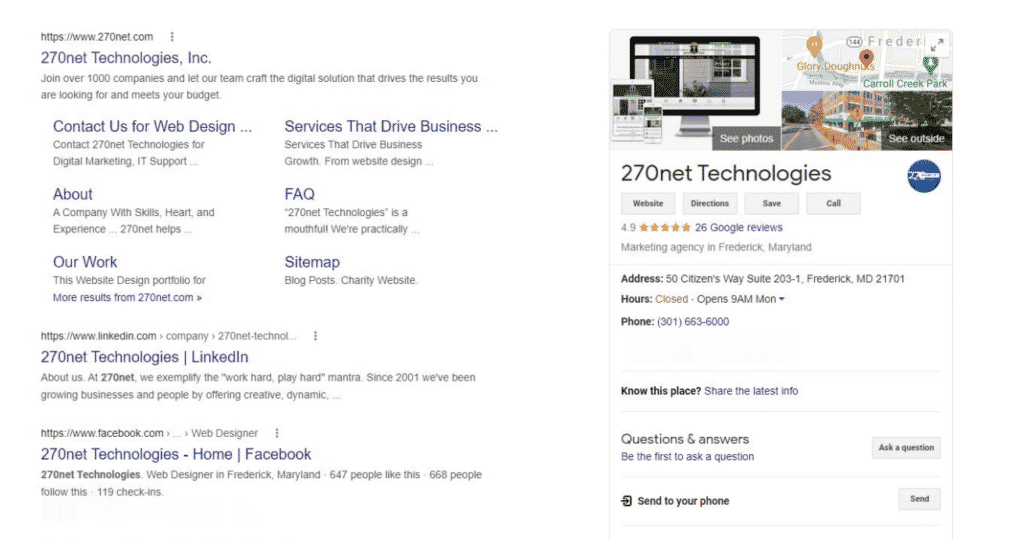 GMB listings also appear within the map in search results in an abbreviated form.
Because Google is the biggest and most-used search engine in the world, getting your listing seen can drastically increase exposure to your small business.
Your Google My Business listing includes several elements, from purely informational to items that help potential customers make more informed decisions. Some of the information on a GMB listing include:
Business name
Address
Phone number
Website
Social media profile links
A short narrative description about your business
Hours of operation
Reviews from prior customers
Photos
When you sign up for a GMB account, you are given the opportunity to add in all the information about your business so you can ensure it is correct. Over time, as your business shifts and changes, you are also able to make changes to the listing that reflect things such as new phone numbers or expanded hours of operation.
Why Is Having a GMB Listing Important?
A GMB listing has many benefits for your small business, with the most obvious being the exposure it provides.
For many searches, Google uses hyper-local search results, which connects people to nearby businesses. This means your GMB listing is essentially free local advertising!
If your business does not have a GMB account, or your account isn't as well-optimized as a nearby competitor's, you may not show up in search results as visibly.
In addition, the GMB listing serves as an official collection of all your businesses' most important information. Any questions potential customers may have can be answered here, removing cautions they may have against giving you a visit.
Having a fully optimized and verified GMB listing also increases the amount of trust your potential customers have in your business.
Customers see that your business is verified by Google and trust that it is more legitimate than an unlisted business. The more information you provide, the more established your business appears and the more trustworthy your customers view you as.
How to Set up Your Google My Business
Google makes setting up your GMB account and getting it fully optimized pretty easy, which is great news for a busy business owner.
First, visit business.google.com and login with a Gmail address for which you have access. Making sure you have access to the Gmail account is important, as this will become your permanent GMB login and will be how you make all future changes to your account.
You will be asked to provide details about your business, including its official name and address. Fill out this information as completely as you can, but don't worry too much about missing things; you can always go back and edit your listing later.
When you enter your official business address, Google will prompt you to trigger a verification postcard. This is an important step in making your GMB account fully official, so be sure you enter an address where you can receive mail and that you check for the postcard.
A week or so following your creating your GMB listing, you should receive a postcard in the mail from Google that includes a verification code. Sign into your GMB account and enter the code to fully verify your business.
In some cases, your business may already have a GMB account that you need to claim or recover.
If this happens to you, it's important that you take steps to claim the business profile instead of creating an entirely new profile. Creating a new profile can confuse Google and may lead to your GMB account being shut down entirely, which hurts your search rankings.
When you visit business.google.com, search for your business by name. You should see a "Claim this business" button on the listing. Clicking it walks you through the necessary process – including a mailed verification postcard – to gain access to the listing so you can make changes.
What Information to Include on Your GMB Listing
Google gives you a variety of options when it comes to fully optimizing your GMB listing.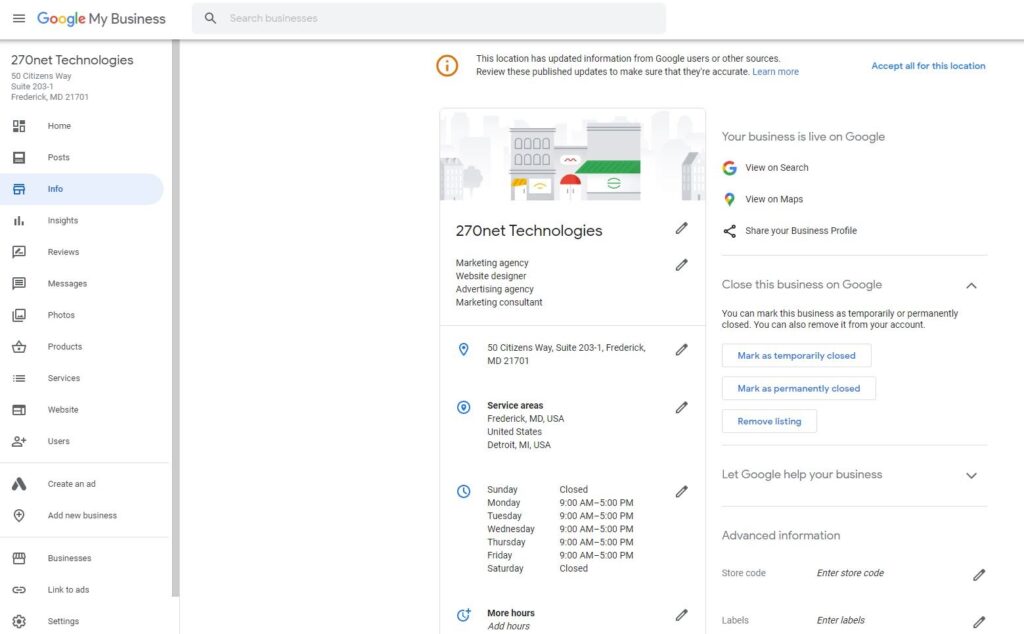 To get started, be sure you include at least the following information:
Full business name
Correct physical address
Correct phone number
Your website URL
A few photos of your business, including your logo, a photo of the exterior of your building, and some interior photos
Your accurate operating hours
A correct categorization of the goods or services you offer
A short description of your business and what you offer
As you expand your GMB profile, adding more information gives your potential customers a better picture of what to expect when they do business with you.
Some additional information you can add to your GMB profile includes:
Additional photos of your products, services, or your team members
A virtual tour of your facility
Posts, where you can share coupons, news, and other updates for 7 days
Geographical areas where you provide services
Special hours, such as for holidays and vacations
Links to your social media profiles
A link to schedule an appointment or reserve a table
Photos, prices, and descriptions of your products or services
Special attributes, such as minority-owned or wheelchair accessible
Your customers also can post their own photos of your business, and can leave reviews that are publicly available. Google gives you the option of responding to reviews, both good and bad, allowing you to resolve customer complaints or thank them for their kind words.
Conclusion
Regardless of how much time and effort you put into creating and managing your Google My Business profile, it's essential that your business has a profile with your basic information on it.
The more information you put on your profile, the better it will perform with Google and the more likely potential customers are to engage with your profile and your business. Take the time to fully complete your profile and keep it updated as your business changes!
Reputation Management for Small & Medium Businesses
Your Google My Business profile is just one piece in the larger puzzle of managing your business's online reputation. Rather than spending all your time learning the ins and outs of each platform, partner with an experienced team that can get it all done for you so you can focus on the important work of running your business.
From reputation management to full-service digital marketing packages, 270net Technologies has the skills your business needs to succeed. Contact us today!