Get More Leads for Your Small Business With Google Posts
Posted on:
By: 270net Technologies
Perhaps you've seen one of Google's newest features in its Knowledge Panel: Google Posts. These posts, curated by businesses instead of Google itself, have been pegged by some as competition with other social media channels, such as Facebook.
But before you panic and throw all your resources into creating the perfect collection of Google Posts, let's take a step back and discuss what Google Posts are, how they can impact your business, and how they compare to other social networks.
Just what ARE Google Posts?
First, "Google Posts" isn't exactly the feature's official name. Part of Google My Business, Google itself never calls the feature by a name. "Google Posts" has been used as an easy way to reference the feature by many SEO thought leaders.
The feature was rolled out in early 2016 and only available to political candidates. In March 2016, availability was expanded to include certain businesses. They were intended as a way for these entities to display special events, relevant news, and specials that would appear in the search console. Earlier this year, they were rolled out for all Google My Business verified users.
Google Posts appear about halfway down the search page for businesses that use them, as in the screenshot below from the Henry Ford Museum: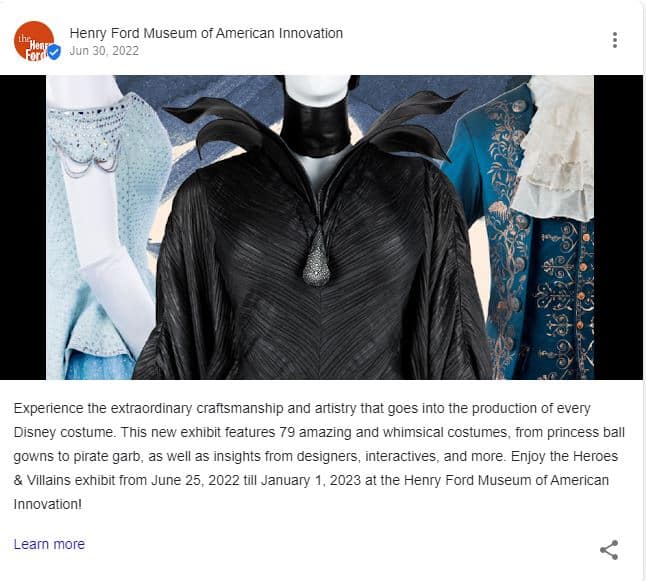 These cards appear on the right column of the search results, below the standard Knowledge Panel that shows for local businesses, as below: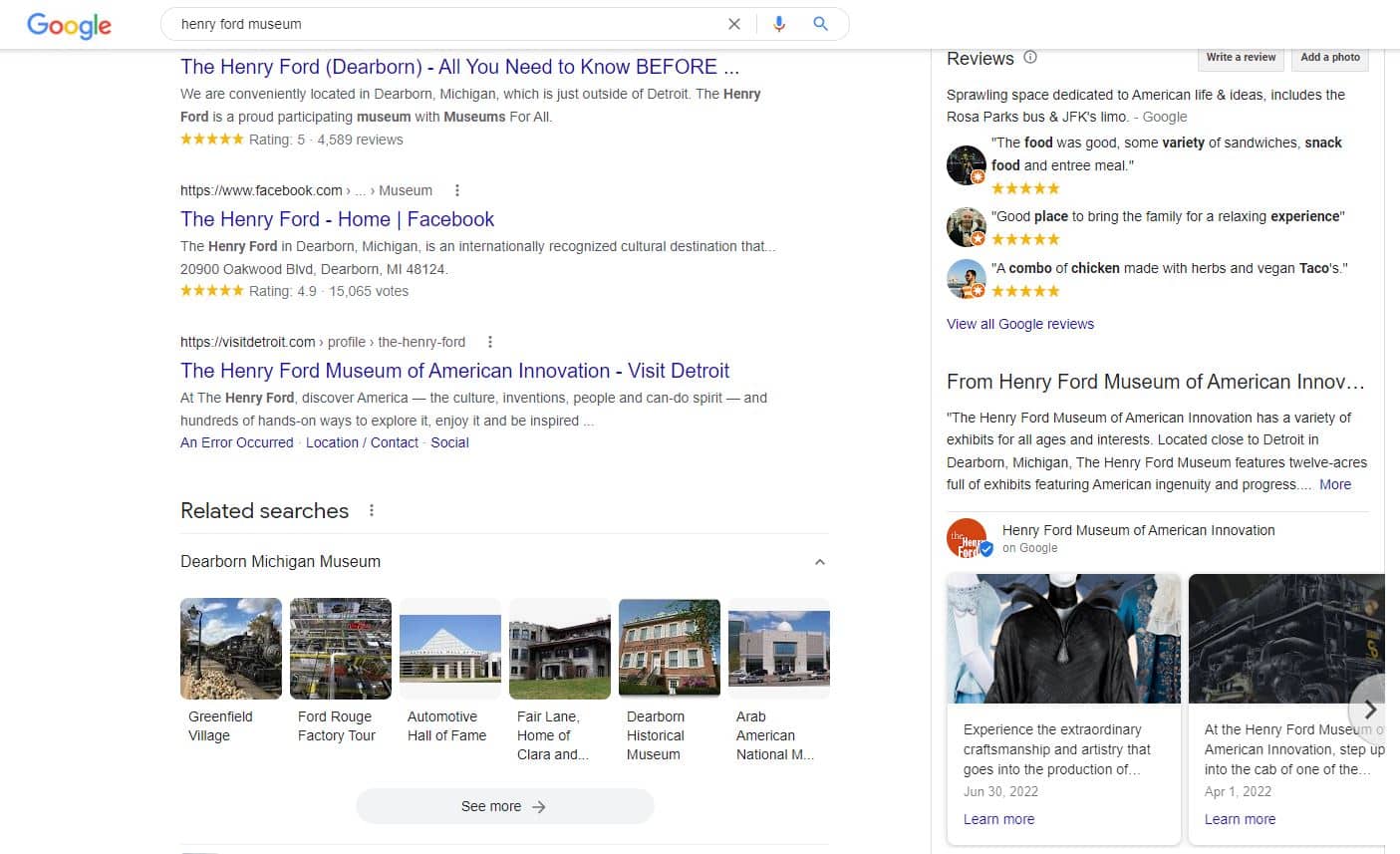 Google touts the posting feature as a way to share "relevant, fresh content with the people who are searching for you." You can post images, text, links, videos, and GIFs to help promote your business. Only the first 100 characters of any text typed is displayed, but the posts are expandable.
How can Google Posts impact your business?
Like typical social media channels such as Facebook and Google's own Google+, there is evidence that using Google Posts can impact your site's rankings. This is likely because of the image-heavy nature of Google Posts, as well as their prominent placement on the Knowledge Panel.
Using Google Posts to advertise limited-time specials or events is a great way to put that information right in front of potential customers, and you can include action buttons such as Watch or Buy Now that lead directly to your specific sales pages.
But, a bit of caution before you bank too heavily on Google Posts improving your site's rankings: Google Post pages aren't indexed by Google, and they're not tracked traditionally by Google Analytics.
Unlike posts to Google+, Google does not index Google posts. This is likely due to their temporary nature, as Google Posts expire after 7 days. This means, once your Google Post expires, it's gone from Google forever. Don't create a Google Post with vital information that will be valuable to customers in the long-term unless that information also is elsewhere on your site.
Because Google Posts don't integrate into Google Analytics, it's not as easy to track exactly who is viewing your posts. You still can see the number of clicks and viewers through your regular Google My Business console, but if you want to be able to pull better data on who is viewing your posts, you'll need to take an additional step. Create a custom URL for any of your call-to-action buttons (Buy Now, Learn More, etc.) in order to track demographics of people coming from your Google Posts. Otherwise, you're losing valuable user data and your efforts on Google Posts won't be as focused as they could be.
How do Google Posts compare to social media channels?
Besides the indirect impact on rankings and the ability to closely control your brand persona, Google Posts bear no resemblance to social media platforms such as Facebook and Twitter.
Google Posts are temporary
Google Posts only appear for 7 days, and searchers only can view the most recent 10 posts. So, posting multiple times daily to Google Posts is going to waste your time and energy but won't really impact your business that much. Focus instead on highlighting short-term or brand-new features of your business, such as new products or daily specials.
There's no main Google Posts page
Regular social media profiles have feeds that allow viewers to scroll back through a company's posts all the way to the beginning of the page. Google Posts only appear in search. There is no central collection of a business's posts, because each post expires after a week. Don't count on Google Posts to cultivate long-term marketing campaigns over a series of posts, as complicated connected posts could leave users confused over time.
There's no way for users to directly engage with your brand
Google Posts doesn't include a Like or Comment feature. Users can share Google Posts through email or social media, but the posts linked to those shares disappear once the original post expires. Google Posts aren't the place to plan on entering into conversations with your customers.
As part of an overall digital marketing strategy that includes search engine optimization, content marketing creation, and a social media presence, Google Posts is another way to help increase your business's visibility and grow your customer base.
Experienced Digital Marketing Services for Businesses of All Sizes
Our talented Digital Marketing team has years of experience working with businesses of all types and sizes to expand their digital footprint, improve rankings, and become thought leaders in their industries. Contact us today to discuss how Google Posts, or any of our digital marketing services, can help your business!