Small Business Marketing Tips: 5 Lessons ALL Businesses Can Learn from the Build-a-Bear Marketing Fiasco
Posted on:
By: 270net Technologies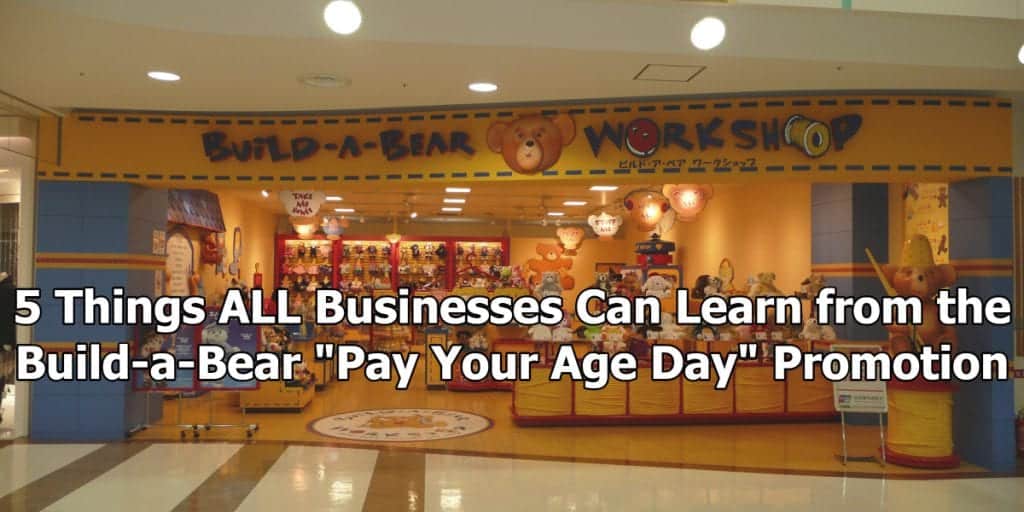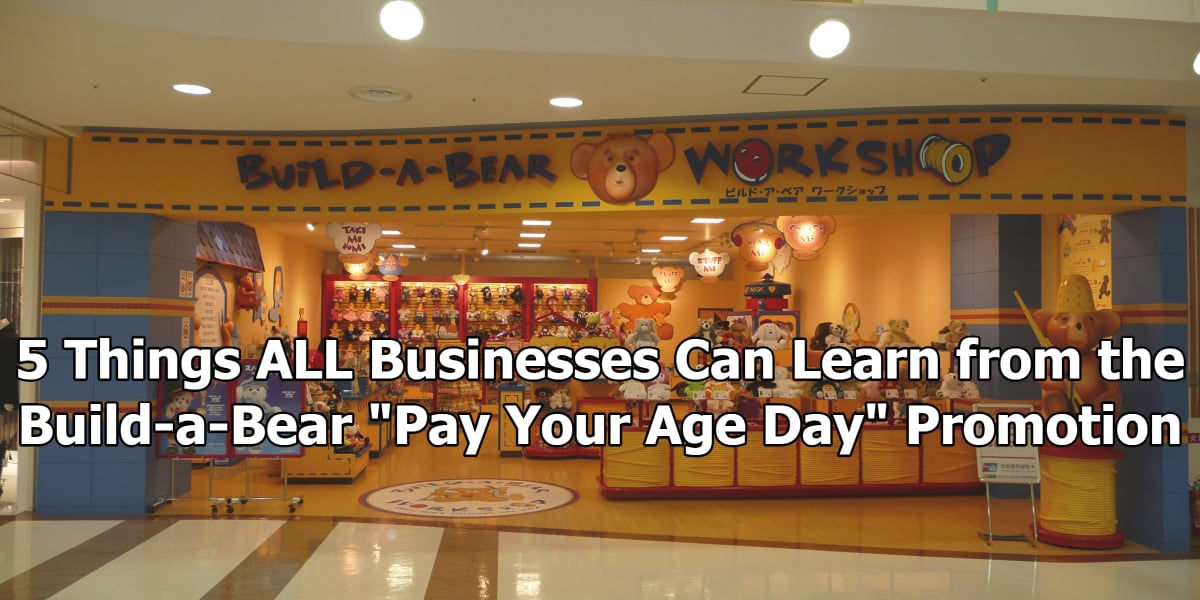 Unless you were stranded on a desert island all day yesterday, you probably heard that Build-a-Bear, the company that allows kids (and, let's face it, adults) to stuff and dress their own custom stuffed animals, had a "Pay Your Age Day" promotion.
And, by all accounts, it was a "beary" huge flop.
Not anticipating the draw of inexpensive bears, cats, and other creatures, Build-a-Bear stores across the U.S., UK, and Canada were overrun by massive crowds, prompting law enforcement (you read that right) at many locations to close lines before stores even opened.
I imagine death so much it feels like a memory.
I'm in the #buildabear line. Send a drone with wine. 🍷🍷🍷 pic.twitter.com/vUH6ju1Mtc

— Farrah Alexander (@WineCoffeeLove) July 12, 2018
The #buildabear line outside the local mall. I think it's quite clear that this promotion went smoothly. pic.twitter.com/MiSJFngGpP

— Josh Jordan (@NumbersMuncher) July 12, 2018
#buildabear Pay Your Age Day, Real life footage from Towson, MD. pic.twitter.com/I7yMaXu7mu

— CO (@MissTinySupreme) July 12, 2018
The promotion was cancelled company-wide, leading to disappointment for thousands of customers and crying children everywhere.
Ever since the promotion was announced earlier this week, the Digital Marketing team at 270net has been discussing the brilliance – and potential for disaster – with such a bold marketing tactic.
Here are 5 things we think ALL businesses can learn from the Build-a-Bear "Pay Your Age Day" event:
Social Media Is a Powerful Megaphone
The Pay Your Age Day was announced to Build-a-Bear's loyalty program members, and the event was amplified by social media. I sent the event link to my mom, thinking she and my dad could take my two children – 7 and 4 – for a little fun at a low cost. I found out about it from the social media post of the Krazy Coupon Lady, a steals and deals website that has more than 2 million followers on Facebook alone.
I saw Facebook friends and Twitter users posting about the promotion in the days between its announcement and Thursday, meaning people who wouldn't have otherwise found out about the offer saw it on their friends' feeds.
With an estimated 2.19 billion active monthly users, Facebook alone has the power to reach nearly every potential Build-a-Bear customer in the U.S., UK, and Canada. Even though the promotion was on a Thursday, it's summer and many kids and parents are out of school, and heading to the nearest Build-a-Bear store made for a fun excursion on a hot day. Do the math: if even a fraction of the potential customer base for all of Build-a-Bear's approximately 400 locations shows up, that's millions of people!
Thursday morning, as people were lining up outside stores everywhere, social media was ablaze with photos and videos of winding queues. There were debates: Are cheap stuffed animals worth the wait? Is this consumerism gone rampant?
And when the decision was made to shut down the promotion, oh goodness. Social media lit up with criticism: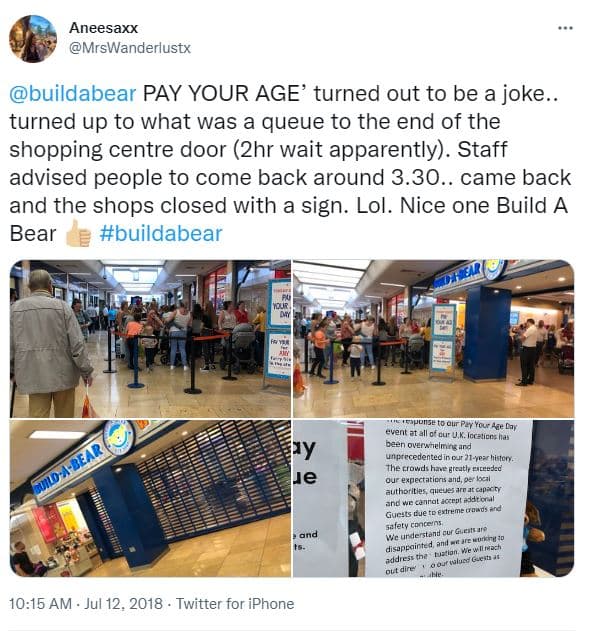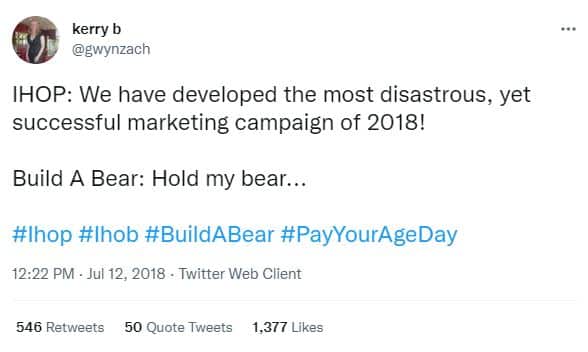 Not to be outdone, some other businesses jumped on the Pay Your Age failure bandwagon and offered their own promotions Thursday: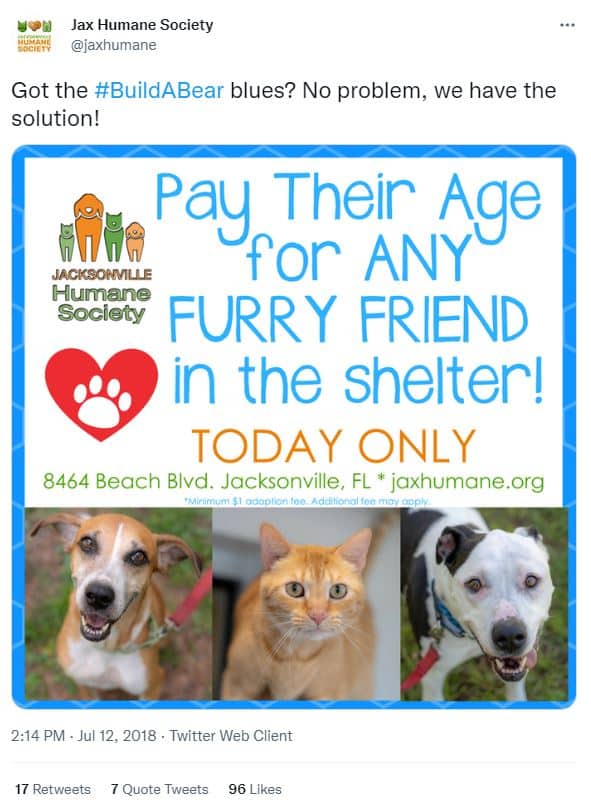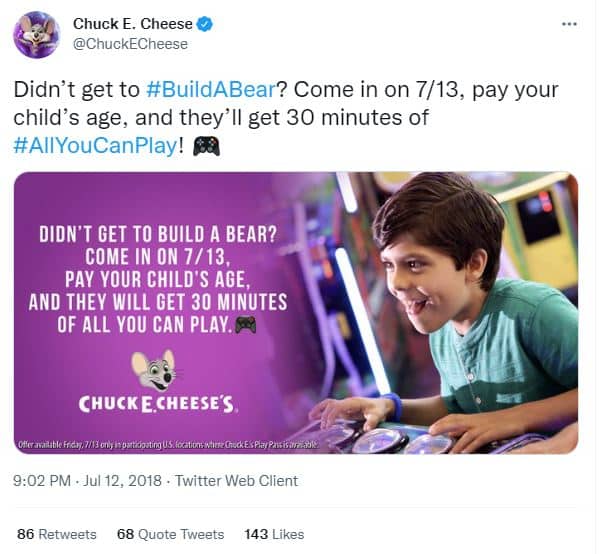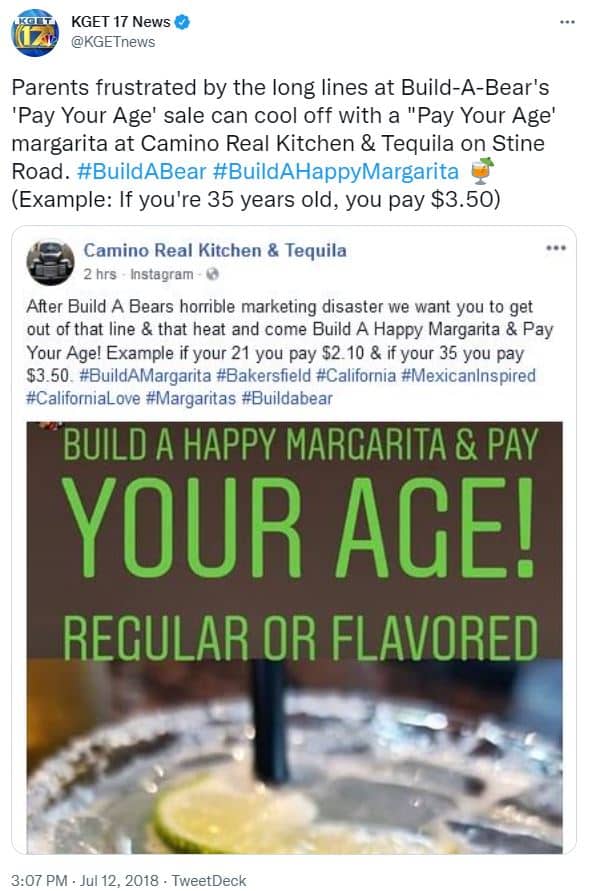 The lesson business owners need to take from this? For good or bad, social media can be a powerful tool. Though it can often feel like swimming upstream (Ever carefully crafted a social media post, only to see its reach barely hit double-digits?), when you have an amazing offer – or if you've made a big blunder – social media can reach people you never expected.
You Need a Great Loss Leader to Kill It on the Upsell
Business owners are no strangers to the power of loss leaders. Just ask any retailer about how a $75 TV or $3 sweater can bring in the crowds. Or the power of offering free appetizers or inexpensive beer for restaurants. Loss leaders are the reason we have so many Black Friday memes: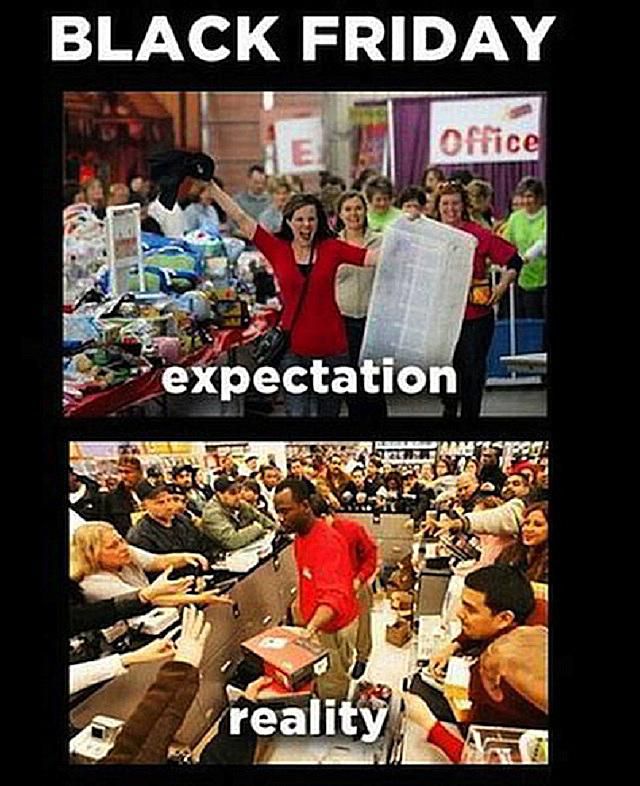 When it comes to Build-a-Bear, it's never been a secret that their big moneymakers aren't the bears and other furry friends themselves; it's the outfits and accessories lining the store shelves.
By offering the stuffed animals themselves at a fraction of the normal retail price, the goal was to get people in the doors who otherwise wouldn't have gone to Build-a-Bear on a Thursday in July. And once they're in the door, especially with kids in tow, they're going to see all the dresses and sports uniforms and camping tents (Yes, there are camping tents for bears) and drop some serious cash.
When I prepared my kids for their trip to Build-a-Bear with Grandma and Grandpa, I made sure they knew that their trip was just for the animals. If they wanted accessories or outfits, they could wait until another time to get them, hopefully saving up some of their own money. I'm sure I wasn't the only parent that had that conversation, but I'd venture a guess that, once inside, many more people would have walked away with a bear and an outfit or accessory.
What can business owners learn from this? Sometimes, you have to give up something for free or low-cost to make an even bigger sale. This doesn't just hold true for retail or food services, where your customers are getting something immediately tangible in return. For attorneys, that could be a free or low-cost consultation before signing a client to a larger retainer contract. In remodeling and other home services, you could offer free repairs or touch-ups (within reason) for two years after work is completed. If you're in lawn care, consider offering free lawn aeration when a new client signs an annual contract.
Whatever your loss leader may be, find it, use it, and promote it everywhere.
ALWAYS Have a Backup Plan
Even the best-laid plans can easily go awry with a greater-than-anticipated response. Because of the short lead time between the announcement of the Pay Your Age event and the actual day itself (about 4 days), many felt that the promotion was haphazardly planned and stores weren't prepared.
Before stores even opened, I was talking with Brandy, our Director of Digital Marketing, about the promotion and what we thought would be smart moves on the part of Build-a-Bear. I mentioned the idea of having vouchers prepared, offering them to anyone in line to help stem the crowds. There's no way every single Build-a-Bear store can have enough animals to fulfill every customer order, right?
My local store opens at 10 a.m., and my mom texted me right around that time that they were standing in line at the opposite end of our mall from the Build-a-Bear store. About 15 minutes later, she said store employees were circulating the lines, encouraging customers to just buy the shell that day and make a return trip on another day to stuff it.
Shortly after 10:30 a.m., she called to tell me they were handing out vouchers to anyone in line for $15 off an animal, good for a few months from now. The employees she spoke to said their main concern wasn't the size of the crowd causing traffic interruptions like at some stores, but that our local store only had 500 empty shells available, not nearly enough to cover every person waiting in line. So even if the person at the very back of the line braved the estimated 3- to 6-hour wait, they couldn't be guaranteed a bear.
Once lines were closed and the promotion was shut down, every person in line at a physical Build-a-Bear store was given the same $15 off voucher. Then, Build-a-Bear rolled out the offer to all its loyalty club members via email, regardless of whether or not they came in person. Even if they hadn't planned to give out the code to all their members, it was some quick thinking on corporate's part to send out that email.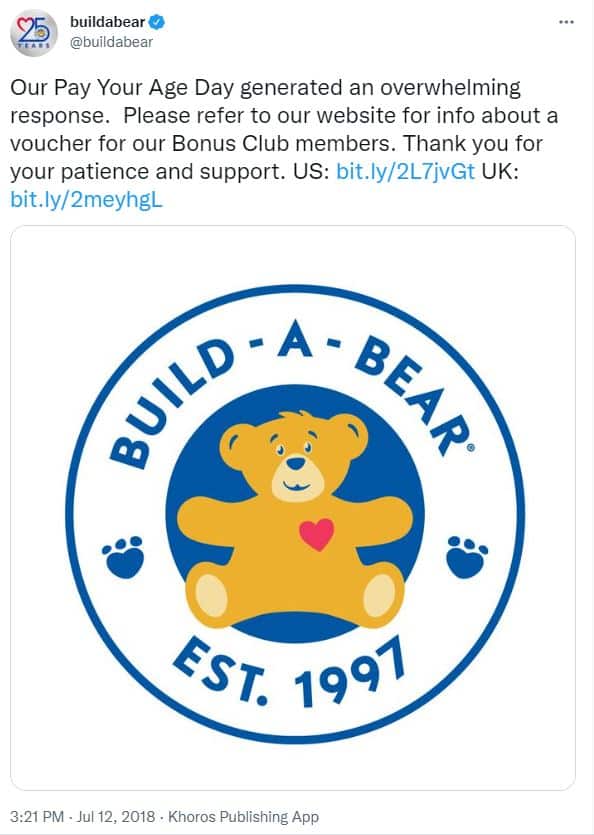 Which leads us into…
How can business owners apply this? If you're planning a special offer, sale, or promotion, all the careful planning in the world may not stand up to customer demand. Take some time to think about all the possible downfalls of your promotion – You run out of supply, the weather intervenes, you can't possibly schedule all the requested work in the amount of time you planned to – and come up with a solution to as many as you can think of. This pre-planning for contingencies could be the difference between gaining or maintaining customers and losing customers.
When You Disappoint Your Customers, IMMEDIATELY Find a Way to Make Up for It
It's no secret customers at Build-a-Bear were disappointed. My son told me he saw lots of kids crying as they left the lines, and angry moms, dads, and grandparents walking away. When the response outsizes the preparation for an event, disappointment is meant to happen.
But that doesn't mean disappointment has to sink your business.
By offering the $15 off voucher to all members of their loyalty club, Build-a-Bear issued a blanket mea culpa, possibly enticing into the stores people who had no intention of braving the Pay Your Age Day event. If they lose even a portion of the people who were standing in lines on Thursday, Build-a-Bear's widespread offer may have made up for that loss by bringing in people who weren't there in the first place.
What can a business owner in this situation do? The first rule of thumb is to always, always offer a prompt and sincere apology for any inconvenience to your customers. Waiting too long can dampen the effect, and only gives people time to complain on social media. Once all that is out there, it's really difficult to combat.
Once the apology has been made, find a way to make it up to any customers who have been inconvenienced. Maybe that's offering a new loss leader, or just giving them a discount of some kind. It's not going to cost your business a ton of money to do but may work wonders for a dinged reputation.
Offering Something "Only" for Loyalty Club Members Increases Your Future Marketing Reach
The initial announcement about the Pay Your Age Day promotion said it was for Build-a-Bear loyalty club members only. For anyone who heard about the promotion through social media or other outlets and showed up, they could register on-site to join the loyalty club and still receive the deal.
Anecdotally, I know my mom signed up for the club prior to Thursday in order to take advantage of the deal, and was planning to sign my dad up as well, just in case it was a "one per club membership" sort of deal. Anyone who did the same thing is now on Build-a-Bear's mailing list until they opt themselves out, meaning their loyalty club membership list exploded because of a single-day campaign.
All these new people will now receive coupons, special promotions, and other advertising, possibly getting them into a Build-a-Bear store more often than ever before, or for the first time. With email marketing remaining the highest on the ROI chain of all marketing efforts (an estimated $38 in revenue is generated per $1 spent on email marketing), this was a really smart move on Build-a-Bear's part. Their potential to market and remarket to a larger group of people grew exponentially, and that could pay them back greatly in future earnings.
What can business owners learn from this? When faced with needing to input their email address to receive a great deal, people are still going to give up their email address. And once you have their email address, your ability to reach them improves. Never be afraid to ask for contact information in return for a benefit to the customer. You may lose some people, but the ones you get may make it all worth it.
So… Genius Marketing Ploy or Big-Time Blunder?
In the day or so since the promo went belly-up, there has been a great deal of social media debate and online post mortem analysis of the event. Did Build-a-Bear bite off more than it could chew? Will the company bounce back from the blunder? Is this just another sign that American retail as we know it is in its swan song?
We don't see things as quite that dire.
While the chaos surrounding the roll-out of the promotion was probably not what Build-a-Bear planned for, we think the idea itself was pretty smart. And the relatively quick response from Build-a-Bear corporate, offering up the deal to anyone in the loyalty club, is the best possible way to make lemonade out of lemons.
For us, though, the most important thing we see in this event is that it can provide valuable lessons in strategy, marketing, and reputation management for business owners, regardless of industry. As we see it, the big takeaways from this event include:
Find your unique proposition, and run with it: Figure out what your business can offer to get people in the door, or get your phone ringing, and work it into a marketing plan.
Consider as many contingencies as possible: As a business owner, you're good at planning. When planning a promotion, plan for problems and figure out a way to solve them before disaster strikes.
Never underestimate social media: Social media can make or break a lot of things. What you may think is an offer that will only reach a few people could reach hundreds. Be prepared.
If a problem arises, respond quickly: An apology can go a long way. So can a coupon for later. If something goes awry, pick a solution and implement it ASAP.
Experienced Inbound Marketing for Small & Medium Businesses
At 270net Technologies, we're all about helping businesses of all sizes and in all industries succeed. Sometimes, getting people in the door is half the battle to getting new customers. Our Digital Marketing team has years of experience in search engine optimization, content strategy & creation, and helping your business get found online.
If you need a partner in helping your business grow, call us today!