You Need Backup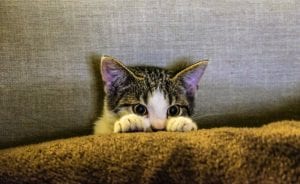 A friend of mine recently got an absolutely adorable, energetic, playful baby kitten who knocked over an entire glass of water on her laptop, as kittens are want to do. Sadly the laptop could not be resurrected which was enough of a heartbreak, but the real loss was her data. Years' worth of photos, documents, and papers in progress for her upcoming final exams. The truth is that these types of "unexpected events" should simply be expected. All of the recent natural disasters – storms, flooding, fires – home intrusions, and the inevitable everyday accidents like the kitten incident are always a risk. But these risks only need to go as far as your hardware. In 2018 there is absolutely no reason your data should not be backed-up automatically at all times. Here are a few easy and cost-effective solutions:
Personal Computer: I use Google Drive on my personal computer to back up all of my documents. It is a storage space that allows users to store files in the cloud, synchronize files across devices. The key reason I like it is because it has an app that is installed on my computer so that as I edit and save the documents, they are automatically being backed up to my Google Drive. This means I don't have to remember to back-up my data periodically or manually, it all happens automatically if my machine is connected to the internet. I can also access the files anytime through my mobile phone app or any internet-connected computer. The best part is that the first 15 gigabytes are free, and they offer 100 gigabytes to 30 terabytes choices through optional paid plans. Other popular options for similar cloud storage systems are Dropbox, ZipCloud, and SugarSync.
Mobile devices: iCloud syncs files that exist within iPhone mobile applications like iTunes and iPhotos, as well as e-mail, calendar, contacts, reminders, notes There is now "Sync-Folder" for general purpose uses. For 50GB's iCloud costs $100/Year ($9/month). Once again the first 5 gigabytes of storage are free with paid storage plans from 50 gigabytes to 2 terabytes. Most people I know struggle with storage space on their phone, and setting up a back-up system like this on your phone will help alleviate this headache. For non-iPhone users, check out Google Photos, Dropbox, or Android Data Backup & Restore.
Physical Files: Even your physical paper files can easily be backed-up now and accessible from anywhere. Not only will this protect them from loss and be more convenient, but it will save you storage space. Just download an app like Adobe Scan, Office Lens, Dropbox Business, or Evernote Scannable. Some of these apps offer features specialty features such as capturing business cards, live-text, etc.
Business Networks: If you are a business owner or looking out for an entire network of devices, there are other more robust and sophisticated options. These include the ability to share data across devices, access it remotely, and much more. Our IT team would be happy to discuss your business's particular need and help you set up a network that works for you!