Google Analytics: 270net's Monthly Website Analytics Report Overview
Posted on:
By: Brandy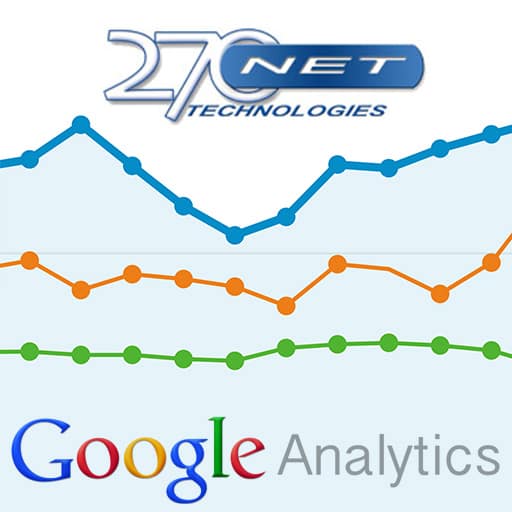 At the beginning of each month, we provide our clients with an automated website traffic and statistics report generated by the industry leader in website statistics, Google Analytics. This report includes a basic snapshot of what happened on your website the previous month. Below you will find a general description for each section of the report. Depending on your needs, you can also log in to your Google Analytics account directly to look at items in more detail or look at long-term trends. If you do not know how to access your Google Analytics account or have any questions about it, please contact your 270net representative directly or contact us through the website.
Read on for a breakdown of each element of your monthly report and what the different statistics can tell you about your website, your audience and the success of your online marketing. You may also jump to the topic of your choice:
---
Total Traffic This Month
As the name indicates, this section simply gives the total amount of visits to your website within the previous month. A visit (also referred to as a "session") can contain multiple screen or page views, events, social interactions, and ecommerce transactions all completed by the same visitor. A visit (or session) ends after 30 minutes of inactivity or after midnight. If the same IP address visits the website again in the same month, it will count as a new visit.  (Underneath the large total you will see some smaller print. This report will always show "% of Total: 100.00%" meaning simply that we are including all traffic to your site.)
Typically we expect to see this number increase month by month, especially if you are performing digital marketing such as SEO or pay-per-click ads. This increase is a sign that we are reaching more people and/or that they are more engaged with your website.
Average # of Pages Viewed Per Visit (per month)
Again, this figure is fairly straightforward. This is the total pages viewed month divided by the total visits in the same month.
We usually like to see this number increase month by month as it indicates that our audience is more engaged with our site. There is a caveat here, however, that is worth mentioning. If you see a very large or growing number of pageviews, but do not see a correlating increase in leads or sales, this could mean that your visitors are having a hard time finding what they are looking for on your website. Make sure your site is easy to navigate with clear calls to action or contact information in the header/footer/sidebar of each page.
Type of Traffic
This refers to how or why each visitor came to your site.  These types may include:
Organic – Organic traffic is unpaid search traffic. This means people found your website through a search engine such as Google or Bing without paying for an ad on that search engine. The goal of search engine optimization (SEO) is to make your website show up more often and higher in search engines, increasing your organic traffic.
Paid – Paid traffic refers to search traffic that clicked on your ad, rather than your organic (free) listing in search engine result. These are also called "pay-per-click" ads because you pay a fee each time someone clicks on your ad.
Social – Social traffic, as the name suggests, include visitors who found your website through a link on social media platforms like Facebook, Twitter, LinkedIn, Pinterest, etc. This could be a link you shared with your followers, a link someone else shared with their friends, or a link included in your profile.
Email – Email traffic includes visitors who came to your website from a link in an email. This could include a link in your email signature or a link included in a mass email marketing campaign from platforms like MailChimp or Constant Contact.
Referral – Referral traffic includes all visitors that came to your website from another website. For example, you may be a member of an association and they publish a link to your website. A more common example would be links to your website from listing services like Yahoo Local, Bing Local or YellowPages.com.
Direct – Direct traffic represents visitors that go directly to your site. This can be done by typing your URL into the browser's address bar or using a bookmark in a browser. These is usually people who are already familiar with your company either by personal experience or successful offline branding campaigns.
This section helps to measure the effectiveness of your current marketing and helps you determine possible avenues for future marketing efforts. For example, if I start running Google AdWords at the same time as I start my SEO, but I see a much larger percentage of traffic coming from "organic" than I do from "paid", I might decide that SEO is a better investment for my particular business.  Another example is if I sent out an email blast and notice a jump in the percentage of traffic coming from email, I might decide to start sending emails more regularly.
Average Length of Visit
This shows the average time each person spends on your site. This may be all on one page or spread among many.  The time shown is broken down into hours, minutes and seconds.
There is not a perfect number or a rule of thumb for what you are looking for in this statistic, because it depends heavily on the nature of your site. An eCommerce site, for example, that requires visitors to take several steps and  input data should have a longer average visit. A very basic website with the goal of getting visitors to pick up a phone and call you, will be shorter.  The goals is to strike a balance where your visitors engage with your product, message or brand, but don't feel like they are wasting time hunting through your site for what they need.
# of Pages Viewed Per Visit (daily totals)
This graph closely dovetails with the average number of pages viewed per visit, but it depicts that data day-by-day rather than the monthly aggregate. This helps to determine which days of the month your visitors are spending more time on the site.
This information can be very helpful in determining when your target audience is most engaged and has the most time to dedicate to your business. For example, if you see a trend of longer visits happening on weekends, this might indicate that your customers are shopping for your services or products over the weekend. Perhaps scheduling a social media post to go out on a Saturday would be more effective than on a Tuesday morning. Likewise if you see activity decline toward the end of the month, this could signal a good time to run a special sale or promotion to keep your customers engaged.
Where Traffic Came From
This refers to where the web page visitors came from just before visiting your website. (Direct) represents a visitor typing your website directly into the browser, using a bookmark, or following a link from an email. We typically see Google.com as one of the top referrers to many sites, followed by other search engines.
This section can be helpful to determine if outside advertising campaigns (such as yelp.com, yp.com, bbb.com, etc.) are working or where else people are finding out about your website.
New Visitors This Month
Google uses cookies to differentiate between new and returning visitors, so "new visitors" means the person has not visited your website before on that machine or browser.
Depending on your business model or the function of your website, this statistic can have numerous implications. This total will always be equal or less than your Total Traffic This Month.
Daily New Visitors
This graph shows a record of the first day a user visits your website for the first time. This could be very different than the days they come back to do more research, purchase your product, or contact you. It is helpful, however, in determining that initial acquisition data.
Once again, the usefulness of this graph lies more in the trends it shows than the actual numbers. For example, if you see spikes in new visits during weekends, perhaps this would be a good time to run a "new customer special".
Visitor Locations
This shows geographically where your visitors were located based on the IP address of their computer. The map typically shows metro areas (somewhere between a city and state). While data at the country level is pretty accurate worldwide, metros are more accurate within the United States. Where you see (not set) simply means the visitors' location information wasn't captured for some reason. This is often the case on mobile devices.
The variety on this graph will have a lot to do with whether you serve a local customer base or offer your services nationwide. You can use this both to confirm that you are reaching your target audience, as well as to identify potential new markets. 
Pageviews by Page
These are the pages that receive the most total traffic throughout the month, in order from most to least. Pageviews include each individual page a single person visits as one (1) view each. For example, if you go to the site and then go to 3 different pages, that would count as 3 pageviews. In the report, it is understood that your website URL should come before the backslash (/). For example, if you see /contact/, that is actually referring to www.yourwebsite.com/contact/. When you see a backslash alone, this is referring to your homepage (www.yourwebsite.com/). Some homepages will also be indicated by /default or /index.
This section can be useful in determining what your audience is looking for and/or connecting with. It can also help you tailor your future marketing efforts and measure their effectiveness.
Visits by City
This augments the Visitor Locations graph by providing the top 10 cities that traffic came from. Again this is determined by IP address and where you see (not set) means the visitors' location information was not captured.
This information can be used to confirm and verify the effectiveness of existing campaigns as well as open up new possibilities. For example, if you start to see a large amount of traffic coming from a particular city, it might be worth doing some research to determine how to maximize that opportunity like running pay-per-click advertising in that city, establishing a presence there, etc.
Enjoy Your Google Analytics!
Again, if you do not know how to access your Google Analytics account or have any questions about your monthly report, please contact your 270net representative directly or contact us through the website. We hope this robust tool will help your company achieve bigger and better things through a clearer understand of your website activity.

Tags: google analytics, website statistics, website traffic